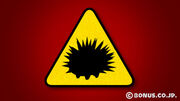 Kate&Karen, originally called Meat or Die, is the seventh episode of Season 1 and the seventh episode on Meat or Die.
Description
Edit
Once upon a time in the future, there are two hungry dinosaurs…
Meet Yans and Gans. They're not too smart. But they're hungry and hunting for meat! Will they ever fill their bellies?
Ad blocker interference detected!
Wikia is a free-to-use site that makes money from advertising. We have a modified experience for viewers using ad blockers

Wikia is not accessible if you've made further modifications. Remove the custom ad blocker rule(s) and the page will load as expected.